Craftster Stocking Swap Pics!
this free felted stocking pattern
, but by the time i've made my changes about the only thing I've kept from the original pattern is the number of stitches to cast on and the toe decreases.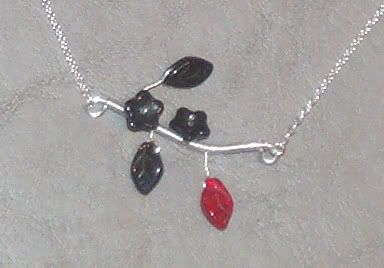 My partner, Kittykill, also received this sterling silver wire-wrapped cherry blossom branch necklace, a crocheted shell-stitch cloche, a red and black cherry blossom knitted pin cushion made of the same yarn as her stocking, a vnitage handbag with a custom illustration and some additional store-bought items. You can see everything she received in
her swap gallery post
.
Also, if you'd like to check out what I received from her, you can do so
at my swap gallery post
. She totally spoiled me!